CMD cooperation team
Numerous specialties for your health
The team of experts in our TMD cooperation community is as diverse as the causes of typical TMD itself.
Through the cooperation of various medical specialties, we can guarantee you holistic diagnosis and therapy of Craniomandibular Dysfunction.
We work together with a team of specialist in the areas of neurology, neurosurgery, physical medicine, orthopaedics, inner medicine, cardiology, ophthalmology and otorhinolaryngology.
Dr. Alireza Amir Sayfadini
Dental director at the Dr. Amir CMD-Centrum
1979–1985 study of medicine (University Shiraz / Iran)

1987–1993 Dentistry studies (Hannover Medical School)

1993–1999 Dentist

Since 1999 resident dentist with a focus on TMD

Since 2008 dental director of the TMD center at INI

30.11.2012 Completion of a master's degree (University of Greifswald)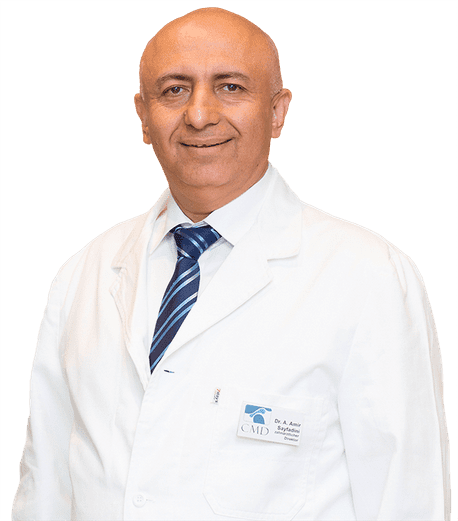 Prof. Dr. med. Bahram Mohammadi
Director of the Clinic for Neurology at the INI
Study of human medicine at the MHH (Hannover Medical School)

1999–2005 Further training as a neurologist in the neurological department of the MHH

Since 2000 doctor of medicine (awarded by the MHH)

Since 2005 specialist in neurology with a focus on electrophysiology and neurodegeneration (until 2006 at the MHH)

2006 Venia Legendi (teaching license) for the subject of neurology (MHH)

2006–2010 clinical activity as senior physician at the International Neuroscience Institute Hannover (INI); Scholarship from the German Research Association (DFG) in the field of clinical neurosciences

In 2010 Senior Physician in the Department of Neurology at the University Medical Center Schleswig-Holstein (Lübeck Campus)

Since 2011 director of the Clinic for Neurology at INI Hannover; Designation as professor (adjunct)